Excimer Laser Annealing System
Excimer Laser Annealing System
for High-resolution Panels

ELA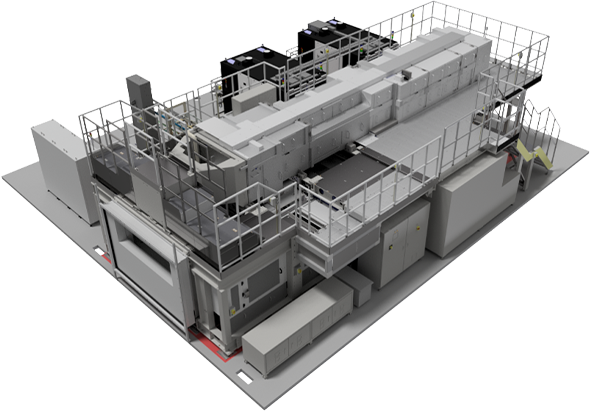 The Excimer Laser Annealing (ELA) system converts amorphous silicon film on a glass substrate into a polycrystalline silicon one. The low-temperature polycrystalline silicon is generally used in the TFT (Thin Flat Transistor) of the high-resolution panels. ELA System is essential for the production of high-resolution panels, such as smartphones, automobile monitor and portable gaming devices.
Features
Further increase process performance with our original substrate transport technology "StiFloat™*"
Improved production capacity (25% up) and CoO (25% down) with multiple cycle handling operation
Self-monitoring of the system status with data integration and user production support system (iSCAN™) contributes yield improvement
Expansion of process margin to improve nonuniformity (Mura) and mitigation of pulse fluctuation using a Pulse Extender
Reduction of maintenance cost by extending a tube lifetime
Anti-vibration design by vibration analysis
Sales Records
Since 1995, we have installed over 200 systems to display companies in China, Japan, South Korea, Taiwan and Singapore, as one of the top manufacturers of the ELA system.
Excimer Laser Annealing System

(Gen 4)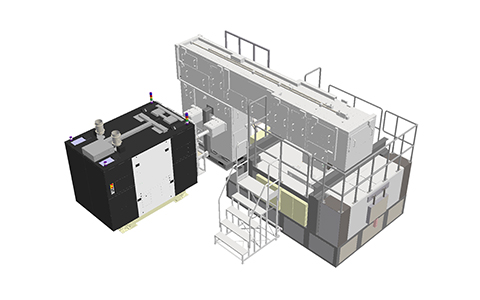 Excimer Laser Annealing System

(Gen 6)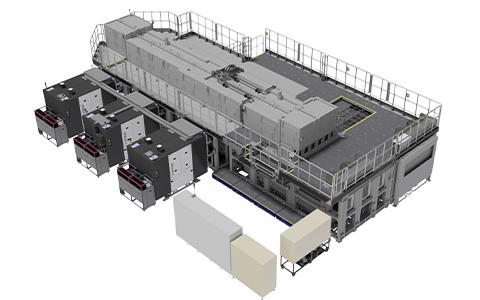 Specification
Process Examples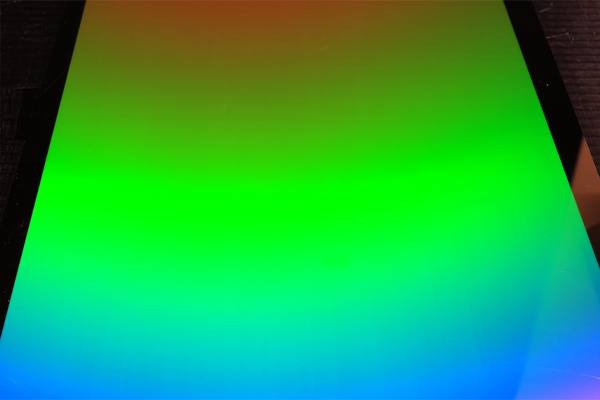 Full scanning of amorphous substrate to LTPS
StiFloat™

Features of the JSW-FELA*1 system with a float-type stage
The glass substrate (substrate) is transported with almost no contact, since the contact on the back of the substrate is limited to the minimum by floating the substrate with airflow.

Capable of handling large substrates (up to G10.5), achieving a high-performance, stable ELA process
Our original substrate-transfer technology provides the most optimal ELA process.
Stable laser irradiation process by improving velocity stability during substrate transport
Non-contact frictionless transport provides speed stability for the stage, reducing uneven irradiation.
Expanding process margin by increasing flatness of substrates in irradiation area
The JSW-FLEA system structurally transports only a substrate and increases the flatness of substrates in irradiation area compared with the VC*2 method since only a limited irradiation area needs to be planarized. Therefore, during laser irradiation, the substrates are processed at a constant height within the focal range of the laser beam.
Reduction of irradiation Mura
N2 flow Mura and Mura caused by VCs, which have been issues with conventional ELA systems, are reduced.
· Airflow Mura
The N2 airflow in the laser irradiation area is optimally designed using airflow control technology, taking advantage of the float-type structure.
· Mura caused by VCs
Due to the lack of contact with VCs, the backside of the substrate is not affected by VC grooves, etc., and irradiation Mura caused by VCs does not occur.
Reduction of ESD*3
Since the substrate is transported in an almost non-contact state in the JSW-FELA system, static electricity caused by contact is not generated.
In addition, components in contact with substrates such as substrate-gripping parts are made of materials that prevent ESD generation.
Reduction of particle
In the JSW-FELA system, only substrates are transported in a state of non-contact, so particles spread and adhered to the substrate are extremely small compared to conventional systems.

*1 FELA: Float-type ELA system
*2 VC: Substrate holding stage of vacuum-suction type
*3 ESD: Electro-Static Discharge